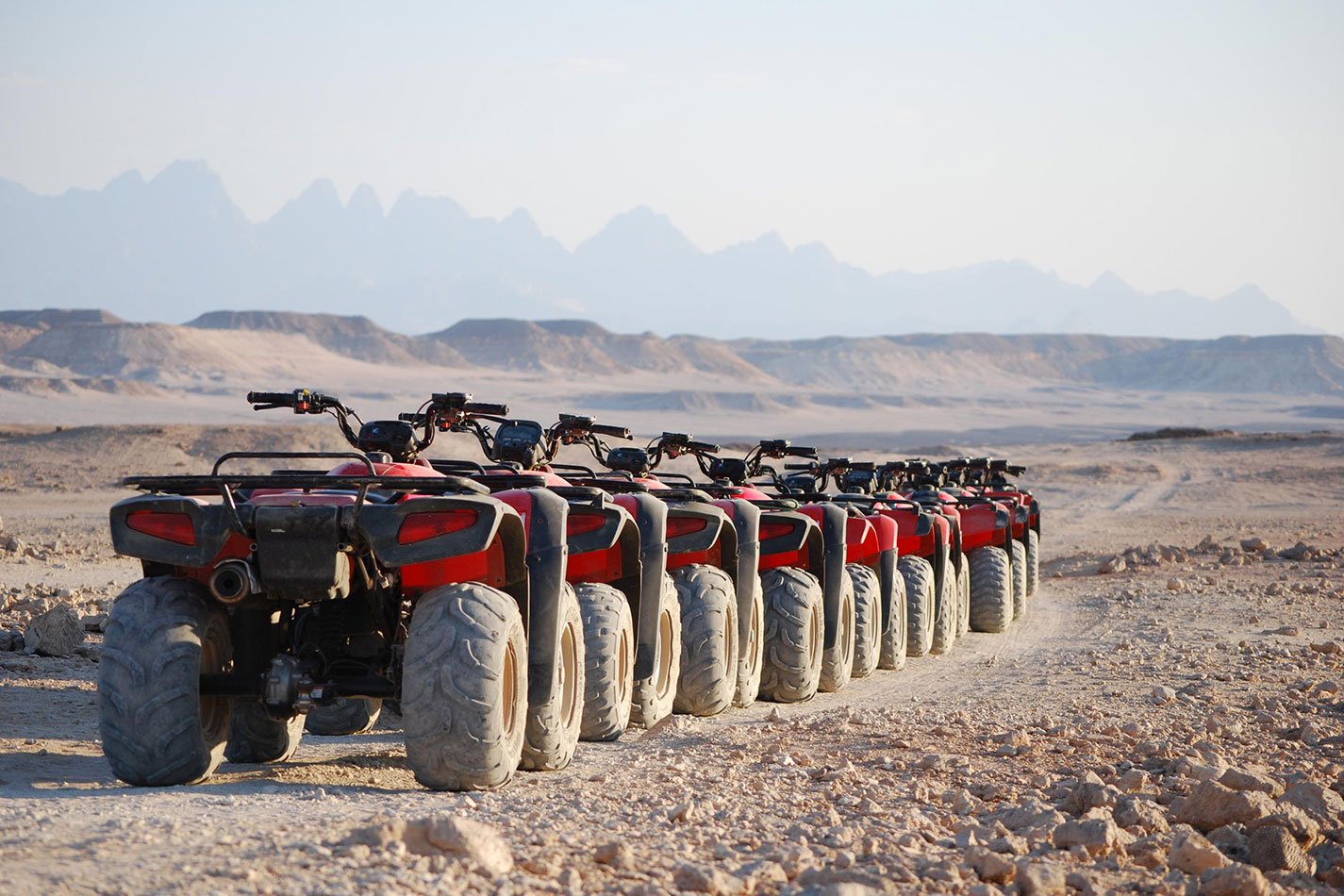 Quad Biking Safari Sharm El Sheikh
from
Spend 2 hours driving that motor bike at the sunrise or the sunset, and enjoy drinking some delicious Bedouin tea. Quad Biking Safari in Sharm El-Sheikh, is the amazing adventure that all the family can join together to cross the desert of Sinai.
Choose the sunrise or the sunset trip to discover Sinai desert with an expert guide that will lead the way across the multi colored sands. Enjoy the beauty of the desert's landscapes in the rising morning sunlight and the golden sunset, while having tea at Bedouin tents.
No previous experience is necessary!. So, the Biking Safari is a safe and family excursion.
Quad Biking Desert Safari is the Fruit of activities in Sharm El-Sheikh. It is a very exciting way to enjoy Sinai Desert with its lovely landscape. Enjoy adventure tours between the mountains by driving a quad bike with no any prior experience.
You have a chance to do this trip privately, rather than doing it with a group, to have your private space, your private guide, and your private persons as well. Click here to the VIP quad bike excursion.
Also, we have more than the Quad Biking Safari Sharm excursion. You can enjoy other exciting excursions in the Red Sea's desert like Sand Buggy Safari, Riding Camels, and Riding Horses. You can enjoy Visiting Dahab, Abu Galum, Colored Canyons, Blue Hole, and Visiting the Saint Catherine. Because the desert has its own magic, you should try the Camping in the Bedouin Tents and taste the Bedouin Dinner.
We have more excursions to do in Sharm El-Sheikh
Not only Quad Biking and other Safari tours are the most exciting excursions to do in Sharm El-Sheikh. But we have more like Water Sports and Tours by Bus from Sharm El-Sheikh to Cairo, Giza Pyramids, and Egyptian Museum. Also, we have Bus tours to Petra and Jerusalem, and Plane Trips to Luxor and Aswan.
We have Scuba Diving Adventures and an Education Diving Center. We have Trips by Boat in Sharm El-Sheikh to Ras Mohamed National Park, Tiran island and more. Finally, the VIP trips are the way you can enjoy your private space with your private persons.
We are here to make you happy!
Vacation Style

Holiday Type

Activity Level

Challenging